Design Introduction
—
Ryan Farrow has been a part of the golf business for over 10 years and was involved in the design, planning, supervision, or shaping of over 25 golf courses throughout the United States and Asia. Ryan received his start in the design businesses as an intern on Tom Doak's construction crew at Rock Creek Cattle Company and spent additional time gaining office experience under John Fought, all while finishing his degree at Arizona State University. Upon graduation, Ryan accepted a Design Associate position at Schmidt-Curley Design where he worked from 2008-2014. During his time in Asia, Ryan lived in China for over 5 years, acting as Schmidt-Curley's "eyes and ears on the ground" for the construction of a 10 golf course resort (Mission Hills Hainan). In his years working for Schmidt-Curley, Ryan has not only learned the technical aspect of creating plan documents on the computer, but possesses the ability to produce all phases of construction documents necessary for building a golf course in the modern age. While he understands a great golf course cannot be designed on the computer, the usefulness of quantifying takeoffs, calculating cut/fill numbers, and the importance of securing environmental permits are qualities of detailed plans that should not be undervalued. Ryan prefers to use construction plans as a general outline to move things along and leaves the decision making and design calls for his time spent on site. Since 2015, Ryan has been working with Coore & Crenshaw as a Golf Course Shaper honing his craft by building the necessary skills needed to create a world class golf course.
Dalu Dunes
—
In 2014 Ryan Farrow completed his first golf course design as Lead Designer on the Dalu Dunes Golf Course along with Principal of Schmidt-Curley Design, Lee Schmidt. Ryan and Lee worked together on the planning, design, and supervision of Dalu Dunes in Inner Mongolia, China. The golf course sits on a vast stretch of dunes-land at the edge of the Gobi Desert and represented a once in a lifetime opportunity to build a transformative golf course on an ideal inland links. The site lay on pure sand with dunes stretching as high as 20 meters tall and complete with gale force winds during the spring and fall months.
"The primary focus was on creating a fun, playable golf experience while trying not to "dictate" strategy. We looked for a great variety of green sites and tee locations to provide the golfer with an unlimited set of options to play each hole based on the days pin position and wind direction. We preserved, and at times accentuated fairway contouring, forcing golfers to play from a variety of uphill, downhill, and side hill lies instead of relying on a heavy bunkering scheme in an attempt to add difficulty. What we created is one of the most rugged, naturally beautiful courses in China which we hope will introduce the local and national golfing population to the beauty and enjoyment of playing links golf." - Ryan Farrow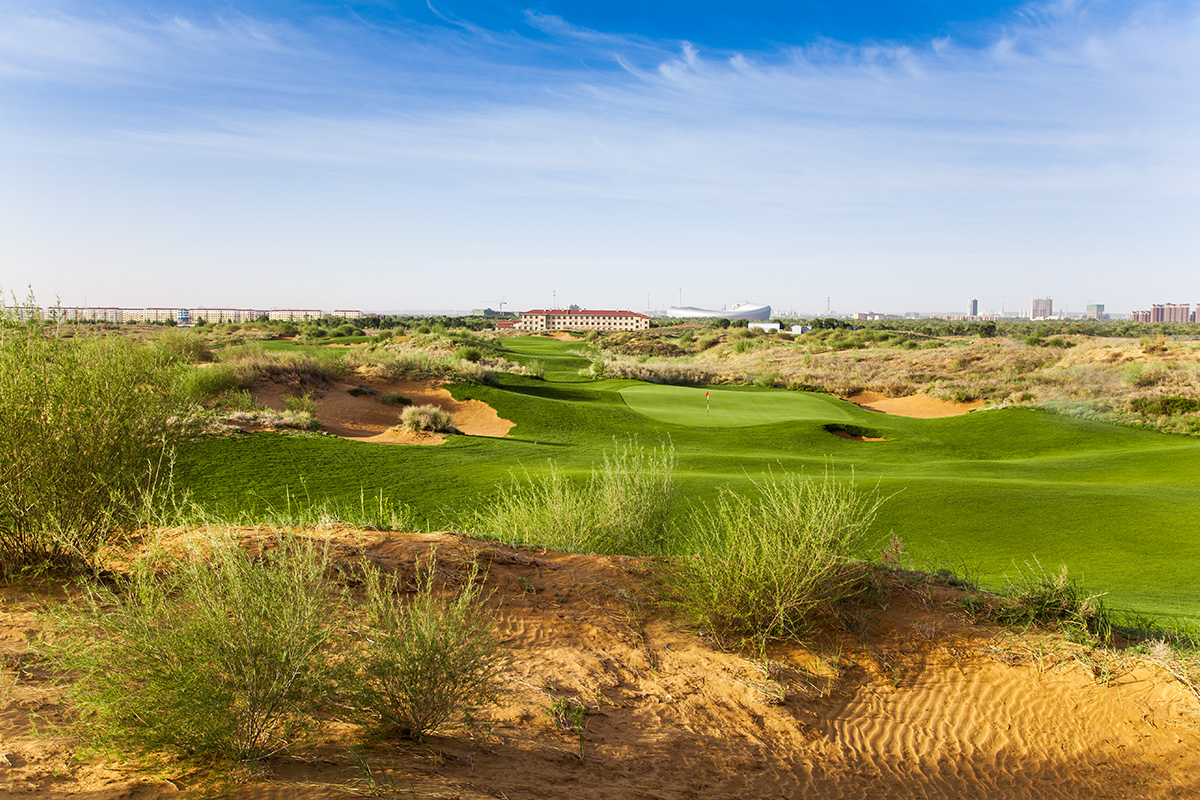 Routing Development
—
INITIAL 27 HOLE ROUTING
Below is the first routing plan completed by the Schmidt-Curley Design Office during the early stages of negotiations with the owner. This general routing was later staked for review during Ryan's first site visit with Lee Schmidt.
POST SITE VISIT ROUTING PROPOSAL
Upon walking our routing for the first time, it was obvious that we were not getting the most out of such a unique property. The client's wish for 27 holes (with three returning 9's) forced us into laying out holes that required substantial amounts of earthwork to create golf holes with good line of sight. The hotel and driving range were also built prior to our involvement and a centrally located residential plot was already approved by the government (with a directive to preserve as much of this development land as possible). After walking the site, we proposed the idea of an 18 hole routing with non-returning 9's complemented by a short course on the southern end of the property. *The image below shows Ryan's initial routing proposal which was agreed upon by the client.
ROUTING REFINEMENT
After the 18 hole routing concept was accepted by the client, further refinements were made to the layout based on a walk-through and subsequent meetings. During this time, we focused our efforts on the final locations of greens and tees in order to make the course routing more walkable and to take advantage of interesting features that were not shown of the topographic map.
FINAL ROUTING
Below is the final as-built design of the 18 hole golf course at Dalu Dunes (this plan also shows the conceptual routing for the par 3 course on the southern end of the property). Future development is planned, but not yet approved on the perimeter of the golf course.